Consultancy & Services Guide
In order to support the creative demands of a global market, we have developed a network of international graphic designers and web professionals to consistently deliver high-quality digital and print assets for our clients.
We can provide a complete set of digital and print design services to ensure that you and your team are fully prepared for all PR, marketing and outreach opportunities - including pre, during and post conference.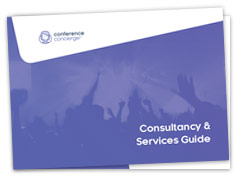 If you would like a copy of our Consultancy & Services Guide 2020, please email us:
You'll receive an automated reply containing a link to the downloadable pdf.

Please note: If you don't receive an email from us within a couple of minutes, please check your Spam/Junk folder.